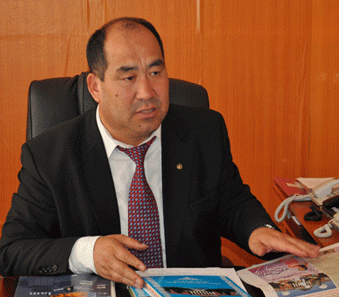 Dear Contemporaries.
The world is becoming increasingly complicated, and it requires an individual to possess a high level of education and skills. Entering a higher education institution is typically considered as a tool for getting a promotion and high profits. However, Education is much more than preparation for a career.Good education enriches one's life.and improves one's understanding of the world. It also enables us to learn to evaluate it critically.making positive changes.
Nowadays Kyrgyzstan takes the leading part in the area of education among Central Asian Republics. Osh State University is a leader of higher education in southern Kyrgyzstan,meets the new challenges of the time. It's The only university in Kyrgyzstan that trains students not only in academic specialties but also in Medicine, Law, Theology, Music, Fine Arts, Agriculture, and Social Work. There are many options open to you.
Osh State University has sufficient innovative potential for useful introduction of new teaching technology into the academic process. To integrate the world educational
community, Osh State University develops international cooperation with more than 30 educational and research institutions abroad. The university is a participant in various international programmes.
Numerous employees of our university are ready to serve you providing with our immense intellectual and material resources. We welcome everybody who seeks for developing the potential of a free individual with democratic values.
Professor Dr.Isakov K.A.
Rector
Osh State Medical University was officially founded in the year 1992. Earlier, it was recognized as Osh Pedagogical Institute back in 1951, when it was begun. The university functions as per the regulations of the Ministry of Health of Kyrgyz Republic & Ministry of Education & Science of Kyrgyz Republic. Osh State Medical University is recognized by WHO (World Health Organization) & NMC (National Medical Commission). At present, more than 4,100 students from various countries around the world are studying at Osh State Medical University. Out of the total foreign students enrolled, more than half are from the Indian sub-continent, who are pursuing MBBS in Kyrgyzstan. OSMU, Osh has gained more popularity than any other medical colleges in Kyrgyzstan in such a short span of time since it started training international students. The university takes part in various scientific and research activities too related to the field of medicine and students from
India can get a lot by being a chain of such projects by being a part of it. The university gives training in undergraduate, postgraduate & diploma degrees to students in the field of medicine. Osh State Medical University's ranking has seen a huge rise in domestic as well as global ranking platforms for the past few years due to the excellent standard of teaching in English medium & newly built campuses with greatest in class facilities.
The city of Osh provides a unique setting for the urban campus of OshSU. At the heart of this charming city lies the OshSU central campus, with the remaining departments located throughout the city.OshSU is the leading educational, cultural, and scientific center of southern Kyrgyzstan. The faculties of the University prepare specialists to respond to all the region's needs. The University sows the seeds of science and democracy that will bloom throughout the country.
Today, Osh State University in figures.
Students: 41,00
Teachers: 2502
Faculties: 20
Institutes: 9
Educational, Scientific Research Institutes: 18
Educational Campus: 23
Hostels: 9
Top features of Osh State University:
1. Openness, availability and high positions in ratings.
2. Membership of international organizations and listing with global directories like UNESCO, World directory of medical schools, Avicenna directory, FAIMER comprehensive directory of medical education.
3. Full use of the latest information technology in the educational process.
4. High qualification and professionalism of teachers.
5. The wide range of a choice of specialties and forms of education.
6. Real prospects of research activity.
7. A possibility of receiving additional higher education.
8. Ample opportunities for participation in international programs, study and training in foreign higher education institutions.
9. Bright student's life.
10. Modern technical base of laboratories and research institutions.
11. Objective and full information on our higher education institution.
Why Choose Osh State University:
→ English medium for Foreign Students.
→ High standard professional Medical Education.
→ Medical faculty OshSU Follows the Euro – Russian curriculum of MD.
→ A degree of MD(Doctor of Medicine) is awarded, a widely recognized and accepted degree all over the world as compared to MB or MBBS degree.
→ Recognized and accredited by Ministry of Education & Science, Ministry of Public health KR, listed with Education Commission for Foreign Medical Graduates, United States (ECFMG)(FAIMER) International directory of medical schools, Our graduates may take USMLE, get registered as a medical doctor and continue Postgraduate education in the United States.
→ Medical faculty OshSU is listed with WHO world directory of medical schools, Avicenna directory, International medical education directory of FAIMER
→ Graduates of the Medical faculty OshSU are eligible to take Screening test by Medical Council of India, Pakistan Medical and Dental Council and other countries.
→Graduates are eligible to work in India, Pakistan, European Union, America, Japan, and other countries.
→ An ideal academic environment.
→ All the hospitals and clinics of Osh state are affiliated with Medical faculty OshSU. Hospitals are equipped with modern diagnostic and treatment facilities.
→ Clinically focused curriculum with clinical rotations in hospitals starting from the second year through the final year.
→ Highly qualified teachers.
→ A possibility of Postgraduation and Ph.D. in a wide range of specialties.
→ A collaboration of the Medical faculty OshSU with many foreign universities, organizations in the field of research.
→ Participation of students and teachers in international scientific conferences and short courses arranged by foreign partner universities.
→ Wide choice of service including University hostels, private hostels, private apartments at an affordable rent ranging from 20 USD to 50 USD per month.
→ Osh – second biggest city of Kyrgyzstan, Southern capital, a beautiful mountainous city, located in the heart of historically famous Ferghana Valley.
→ Osh – A smart city with an ancient background.
→ A city with economic and affordable living conditions.
→ A lot of places for extracurricular and refreshment activities. Swimming pools, Indoor-Outdoor sports centers, Night Clubs, Cinema, Theatre, Winter sports tracks, etc.
Dear colleagues, our friends and students!
We are charmed to greet you on the webpage of International Medical Faculty of Osh State University (OshSU), the educational flagship in Kyrgyzstan and a prestigious international university, which is a member of Shanghai Association of Universities.
The International Medical Faculty is the youngest unit of higher professional education in OshSU. An appropriate and timely decision on the establishment of the faculty was taken in the Academic Council of August 29, 2015.
Faculty Targets:
1. To train highly qualified medical specialists who are on high demand on labor markets of foreign countries and the Kyrgyz Republic, with competencies to carry out independent professional, scientific and research activities; to arrange competitive and highly intelligent professionals with excellent abilities for self-development.
2. To internationalize the national medical education.
3. To establish partnerships with educational institutes of foreign countries for creating opportunities for students to participate in exchange programs and develop networks, strengthening University status on an international level.
4. To enter the system of global scientific, informational and communicational space and also the group of leaders of main medical, educational centers of our region.
The language of instruction on the faculty in English. There are two chairs and more than 40 academicians, including assistant professors and professors, among them – honored workers of Education, Science, and Health of the Kyrgyz Republic.
We will make our best efforts for our faculty students to get high-quality and internationally recognized education.
With sincere respect,
International Medical Faculty Team of Osh State University
We ask you to be cautious and attentive when dealing with unfamiliar faces and scammers, which may be represented by contractors and firms for the provision of admissions services to OSMU. Clarify the names and data of officials and representatives.
Applicants from the far abroad must necessarily check whether the subcontractor has an official contract with an official representative for recruitment of  foreign citizens for training at Osh State University. ANY INFORMATION YOU CAN SPECIFY BY EMAIL: [email protected]
Admission Helpline:
 Dr. Naushad [ Student Authorized Coordinator ] 
 Phone: +996776453809 (Whatsapp)
 Email- [email protected]